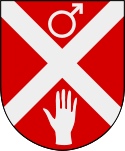 In the "middle of the middle" of Sweden you will find Laxå at the highway E 20 and road 205.  You can also get here by train and there are very good railroad connections to Laxå   both from the south of Sweden (Gothenburg and Malmö), Stockholm and the north east of Sweden. We have abundant supplies of big forests and water. As a matter of fact, we have the longest beach/capita in Sweden, if we exclude municipalities along the Swedish seacoast. The biggest lakes are Skagern and Unden.
Best practice examples of inclusion:
"Inclusion in daily social life"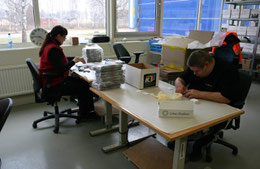 Work experience at various workplaces in the municipality such as Rastpunk/ Burger King, Pemax, Noratel, OKQ8, Laxå Municipality etc.

Participation at everyday things such as shopping, waste separation.

 

All the work carried out in our daily activities and our associations.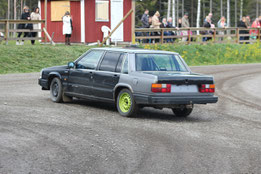 Folkrace KFMK, swimming Alle'badet, weight training. Special rally cars, built for people with disabilities.

Activities at the riding club in Ågrena. A special ramp is built for people with disabilities, making it possible for them to ride a horse.
"Inclusion in the education sector"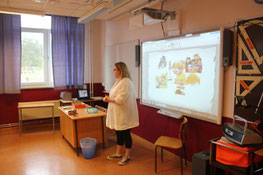 Included pupils in the municipal primary school. No special school anymore. Students with so severe disabilities, that they cannot participate in primary school teaching is, however, at a special school in another location. In the current situation, there are three pupils in that location.

The inclusive approach for pupils with disabilities at upper secondary school Alléskolan in Hallsberg.
" Inclusion in / through music"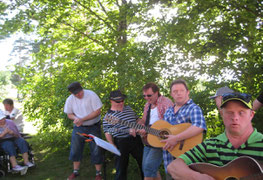 Which projects, experiences, institutions or facilities have made the most impression on your delegation within the IN-Town meetings ?
Voices from the Swedish team:
"I cannot say that I was entranced, but it was interesting to see that people are working hard on the issues and that they really wanted and were interested in the issue. Continuing on this path, will take you to the level where we are today. So I cannot say that any facility
or institution made my soul happy. But several people we met, both staff and "clients" made a strong impression on me."

"I was impressed by the Hungarians and their voluntary commitment both privately, by churches and the Red Cross. Remaining impressions were the guy who was blind and had his phone as a daily tool for activities, and the symbiosis between Gary o his buddy. The swimming pool with its aid is also something I appreciated. Naturally, the swimming show, too. I also liked the art project very much."

"What made the most impression on me during our meetings were when we visited the daily activities in Grevesmühlen. Here they had the opportunity to compete in the labor market, which we cannot because of our legislation. This is very interesting for my work in Laxå  and I and my colleague have had the opportunity to visit various social enterprises in the county. To face the future, where we know we will get more high-functioning patients,  we must find other ways to work on and find meaningful pursuits. We are investigating some projects, but so far, it is only at the discussion stage."
How you could improve the politics on inclusion in your country?
 Voices from the Swedish team:
"The most important way to influence policies is to keep the issue constantly
alive. It must be on the agenda all the time. The various organizations must, continuously, "Knock on the door" and demonstrate their existence."
"A document for inclusion. This project has involved the inclusion of disabled people in society. I think that all people should feel included in society, young and old, families and single people, regardless of ethnic background or disability. All of them should feel included in society, and society should be accessible to all of them."
"The political knowledge can probably be improved by informing them and commitment to them. Information meetings in different contexts. Invite them to different available events. FUB ( an organization working for children, adolescents and adults with developmental disabilities to live a good life)and other organizations  maybe can participate . Often, but not too much information, might be a good idea! Remind and alert them continuously."
"Concerning politicians, should, in the first instance, a new disability plan be made. And then I think that they need more insight and knowledge about disabled people."

Statements about the IN-Town Project:
Voices from the Swedish team:
"We have/had disabilities in the family, so we are very aware of existing problems all the time. But you need to be reminded of the obstacles that are actual in our society. Even if Sweden is improving all the time, we have a lot of work to do in the future and sometimes you feel as if you stomp on the same spot all the time, and occasionally takes a step back. In the municipality of Laxå we need to get the issue back on the agenda. Feels like we don´t take any steps forward at the moment."
"All of us in the Swedish team have contact with disabled people in various ways. This was a chance to shed more light on the topic and make society more aware of the work we are doing in the municipality."
"More o more understanding of the importance that all people  get as good a life as possible, that society must be adapted to the needs that we have - both similarities and differences - in our European countries and that we all are working in the same direction. Important with the exchange of all sorts of questions, not only in terms of inclusion. My views or ideas about the disabled people have not changed. I have a solid foundation of my beliefs about human equality. I feel, however, that despite what the world may seem, there are many good wills in Europe."
"This project – in which I and Petra had the honor to participate - has been amazing!!! Amazing, because all new contacts you have tied, but also because it has been a real "kick". We are all working constantly with these issues, but the things we experienced and the preparations we made when the entire delegation visited us in Laxå, have made us even more excited to work for disabled peoples´ inclusion in society.
On what topics we might cooperate in the future within this network of twin cities?
Voices from the Swedish team:
In Hungary, we met people who worked with the disabled and felt that they were working with their hearts.

I

n Germany, the factory where they built the scenes, turned, had subcontract work where everyone had a task according to his ability, (our Samhall).

The neighborhood in Portugal, the beautifying art and participation to "build" their society.

Collaborate in music! Try exchange, where the disabled can visit the twin towns, perhaps at camps.

A forum for the development of a society where everyone can move (transportation service, suitable curbs, etc.

M

aybe a forum for gathering, so we can give a few more a golden flavor to life.

Work for sign language training of as many as possible to build bridges. Perhaps internships in each other countries